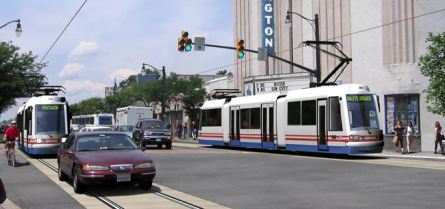 What's New
Streetcar Cancelled
Posted November 18, 2014
The Arlington Board's decision to cancel the Arlington Streetcar System is deeply disappointing, as is the negative and frequently inaccurate smear campaign that led to it. The streetcar was the lynchpin in a carefully built up plan to preserve affordable housing in Arlington's most diverse neighborhood, to convert an aging auto-oriented corridor to the type of walkable, vibrant community that so many people want to live in, and to remake Crystal City from an aging office complex shaken to its core by BRAC into a "complete community" and revitalized economic engine for our tax base. Huge amounts of community time and energy went into the Columbia Pike Initiative, the Columbia Pike Neighborhoods Plan and the Crystal City Sector plan, and that time and energy has just been thrown away.
We advocated for a streetcar because we believe it to be the best solution for Columbia Pike and Crystal City's transit and development needs. We are Arlington citizens who care deeply about our community and we will not being going away simply because a streetcar is off the table, we will be there to fight for the best possible non-streetcar solution for Columbia Pike and Crystal City's needs. We hope those who fought the streetcar because they believed, for whatever reason, that it was not a good solution will join us in that fight for the best possible non-streetcar solution. Perhaps we need to lobby VDOT to allow dedicated transit lanes on Columbia Pike, perhaps we need to re-work the Pike Plans and Crystal City Sector Plans based on the new realities of our transit capacity, perhaps we need to ensure that we build large, high quality, attractive, comfortable, protected-from-the-elements bus shelters with off-vehicle fare collection and level boarding. In all setbacks there is an opportunity, let us seize this opportunity to work together for the best possible outcome for Columbia Pike and Crystal City.
Notable Support
Virginia Chapter of the Sierra Club:
"The streetcar provides the best long-term solution to handling transit on the growing Columbia Pike corridor.  Along with the Crystal City streetcar, a separate initiative funded by a special tax district, it will increase transit options for commuters within growing transit corridors. Like Metro was more than 40 years ago, this represents a once-in-a-generation opportunity.  We believe it's an opportunity that should not be missed."
Karen Darner, former Virginia 49th District Delegate
"I grew up in the St. Louis area and was fortunate to experience streetcar transportation with my grandmother. Your whole perspective is elevated, and the Columbia Pike trolley will be similar. We will have our own positive distinction for a special part of Arlington, and it definitely will attract people to our neck of the woods. I only wish this great idea and partnership were now!"
Coalition for Smarter Growth
"The Coalition for Smarter Growth supports the streetcar as a key element of bringing new life to Columbia Pike - and we hope you do too."
"Recently, opponents of the project have been clamoring for Arlington to consider other options, but the county has studied all of the options thoroughly, and pausing now to reconsider would mean significant delay in bringing Columbia Pike the transit it needs."
"We stand with the Sierra Club and Arlington Streetcar Now in our belief that the streetcar should go forward as planned."