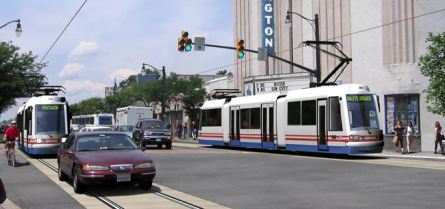 What's New
On the Election
Posted April 10, 2014
Arlington Streetcar Now congratulates John Vihstadt on his election to the Arlington County Board.  Mr. Vihstadt has vowed to be an independent voice on the County Board, to continue his collaborative style of community service, and to weigh matters on their individual merits. We hope he lives up to those commitments.
We note that Mr. Vihstadt has stated his opposition to the Arlington streetcar system that would greatly benefit Columbia Pike, Pentagon City and Crystal City. We hope that he takes time as a Board member to review the lengthy community planning process that led to a broad consensus in support of a streetcar system that will provide an important new transit option, spur economic development that will help fund core services while keeping residential taxes lower in Arlington, and allow thousands of affordable housing units to be saved and created along Columbia Pike.
We hope also that he reviews with an open mind the voluminous data showing that the streetcar system would do far more to promote the community's vision than the enhanced bus service that he has favored.
For example, we hope that he will, upon further study, acknowledge that the alternative bus system could not carry a sufficient number of passengers to be a viable or acceptable alternative to the streetcar and bus system planned by Arlington and Fairfax counties.  We hope he will also acknowledge the far higher operational costs of an enhanced bus system that would make such a system far more expensive over time.
Mr. Vihstadt's election does not change any of the facts that have led the Arlington County Board to conclude on numerous occasions that the streetcar system is needed in Arlington and will provide tremendous benefits both for the neighborhoods directly served and for Arlington as a whole. 
For these reasons, Streetcar Now will continue to advocate for Arlington to build the promised streetcar line, as the only realistic alternative to provide the transit capacity we need for the anticipated growth of Arlington over the next two decades, preserve affordable housing on Columbia Pike, help transform Columbia Pike, Pentagon City and Crystal City into transit-oriented walkable downtown areas, and complement plans for upgraded Metro service in Arlington.
Progress on the streetcar continues. Streetcar Now's advocacy for the best future for Arlington and its residents will continue as well.
Notable Support
Virginia Chapter of the Sierra Club:
"The streetcar provides the best long-term solution to handling transit on the growing Columbia Pike corridor.  Along with the Crystal City streetcar, a separate initiative funded by a special tax district, it will increase transit options for commuters within growing transit corridors. Like Metro was more than 40 years ago, this represents a once-in-a-generation opportunity.  We believe it's an opportunity that should not be missed."
Karen Darner, former Virginia 49th District Delegate
"I grew up in the St. Louis area and was fortunate to experience streetcar transportation with my grandmother. Your whole perspective is elevated, and the Columbia Pike trolley will be similar. We will have our own positive distinction for a special part of Arlington, and it definitely will attract people to our neck of the woods. I only wish this great idea and partnership were now!"
Coalition for Smarter Growth
"The Coalition for Smarter Growth supports the streetcar as a key element of bringing new life to Columbia Pike - and we hope you do too."
"Recently, opponents of the project have been clamoring for Arlington to consider other options, but the county has studied all of the options thoroughly, and pausing now to reconsider would mean significant delay in bringing Columbia Pike the transit it needs."
"We stand with the Sierra Club and Arlington Streetcar Now in our belief that the streetcar should go forward as planned."