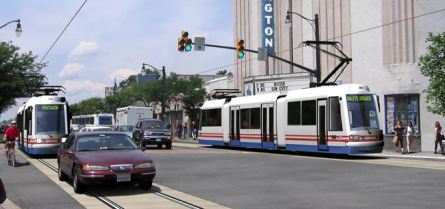 What's New
Streetcar Engineering Contract Up for Approval
Posted September 19, 2014
A major milestone is approaching. On Tuesday 9/23 the County Board will vote on the preliminary engineering contract for the Arlington Streetcar System. Awarding this contract will be a huge step forward for the project! This is a great opportunity to remind the County Board of your continued support for the project! Attend the hearing and sign-up to testify (6:45pm on Tuesday in the County Board Room at 2100 Clarendon Blvd) or if you are unavailable on Tuesday email a letter of support to countyboard@arlingtonva.us
Notable Support
Virginia Chapter of the Sierra Club:
"The streetcar provides the best long-term solution to handling transit on the growing Columbia Pike corridor.  Along with the Crystal City streetcar, a separate initiative funded by a special tax district, it will increase transit options for commuters within growing transit corridors. Like Metro was more than 40 years ago, this represents a once-in-a-generation opportunity.  We believe it's an opportunity that should not be missed."
Karen Darner, former Virginia 49th District Delegate
"I grew up in the St. Louis area and was fortunate to experience streetcar transportation with my grandmother. Your whole perspective is elevated, and the Columbia Pike trolley will be similar. We will have our own positive distinction for a special part of Arlington, and it definitely will attract people to our neck of the woods. I only wish this great idea and partnership were now!"
Coalition for Smarter Growth
"The Coalition for Smarter Growth supports the streetcar as a key element of bringing new life to Columbia Pike - and we hope you do too."
"Recently, opponents of the project have been clamoring for Arlington to consider other options, but the county has studied all of the options thoroughly, and pausing now to reconsider would mean significant delay in bringing Columbia Pike the transit it needs."
"We stand with the Sierra Club and Arlington Streetcar Now in our belief that the streetcar should go forward as planned."